Email Marketing and Social Media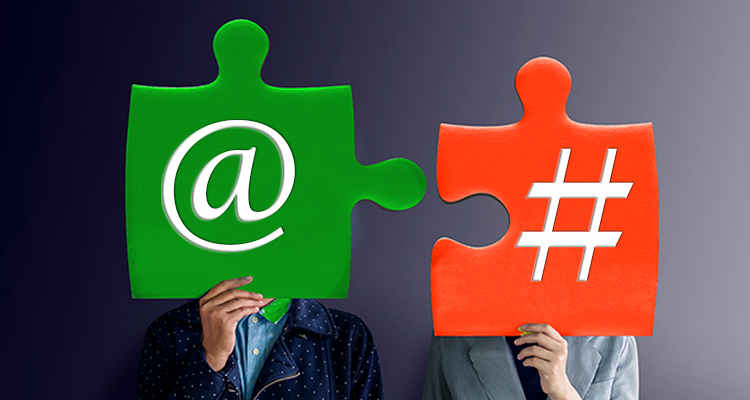 Digital Marketing's Dynamic Duo
Email marketing continues to be the most effective form of digital marketing. (You're reading this, aren't you?) Social Media allows anyone to set up a mini broadcasting network with a global reach. Together they form the foundation of a winning online presence for your business. Email supported by Social Media can provide you with:
57% more new customers

73% more customer engagement

39% more business referrals
Best of all, there are a few easy to follow strategies you can follow to get in on all the fun.
Use Email to Build Your Social Reach
Get more out of your email and social media campaigns by repurposing your content on each platform. Let your subscribers know they can follow you on social media. Some of your subscribers may not know about your social media presence. Add links in your emails to your pages and ask them to friend/follow you to stay in touch, and get more access to more content. 
Building relationships
Make it easier for your subscribers to contact your company. Prepare the contact section on the bottom of your Newsletter, which links to your social media profiles. This way, subscribers will be able to send you a social media message directly from the email they've just got from you.
Repurpose your Social Media content in your Newsletter.
Encourage your subscribers to interact with the content on your social media platforms. When you publish photos or videos on social media, and they get a lot of comments and likes – showcase your success in your Newsletter. 
Invite your subscribers to share your email
Place social media sharing buttons in your email and invite your subscribers to share your content—place "Retweet this" tag and cross-promote your offer on Twitter and email.
Add social share buttons to your "Thank You!" page
A "Thank You!" page is the page the subscriber lands on after filling up the email list registration form. Use this page and put there social share and follow buttons. Just remember to point a landing page URL to the "Share" button and not to the "Thank You!" page URL, because you want their friends to sign up on your list.
Use Social Media for List Building
The easiest way to do it is with one of Facebook's Call to Action buttons. Facebook has a Call to Action button, which can easily be customized. The button provides you with several options, "Sign up" is the best one for building your list. 
Go to your Business page and click the "Create Call-to-Action" button near the lower right-hand corner of your cover image. Choose "Sign up" from the dropdown menu and add the URL to your sign-up form on your website. That's it!
Create a Custom or Look-Alike Audiences
You can merge your social media and email audiences. Facebook can create a Custom or a Look-Alike Audience from the information you provide—data from a Tracking Code or your current email list.
In the case of a Tracking Code, Facebook will create an audience of people who have engaged with your website. With your email list, Facebook will find members with profiles similar to those on your list.
The advantage of both is that you are not serving social media ads to random people. These are prospects who share your interests or who have expressed an interest in your business.